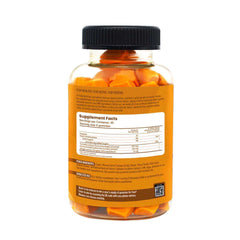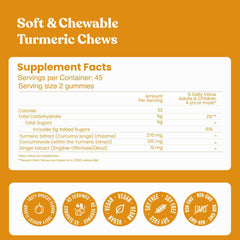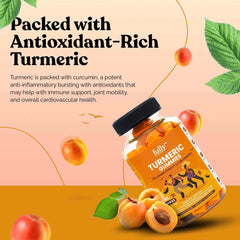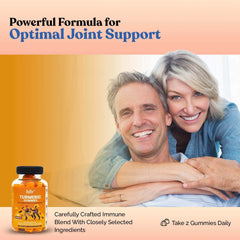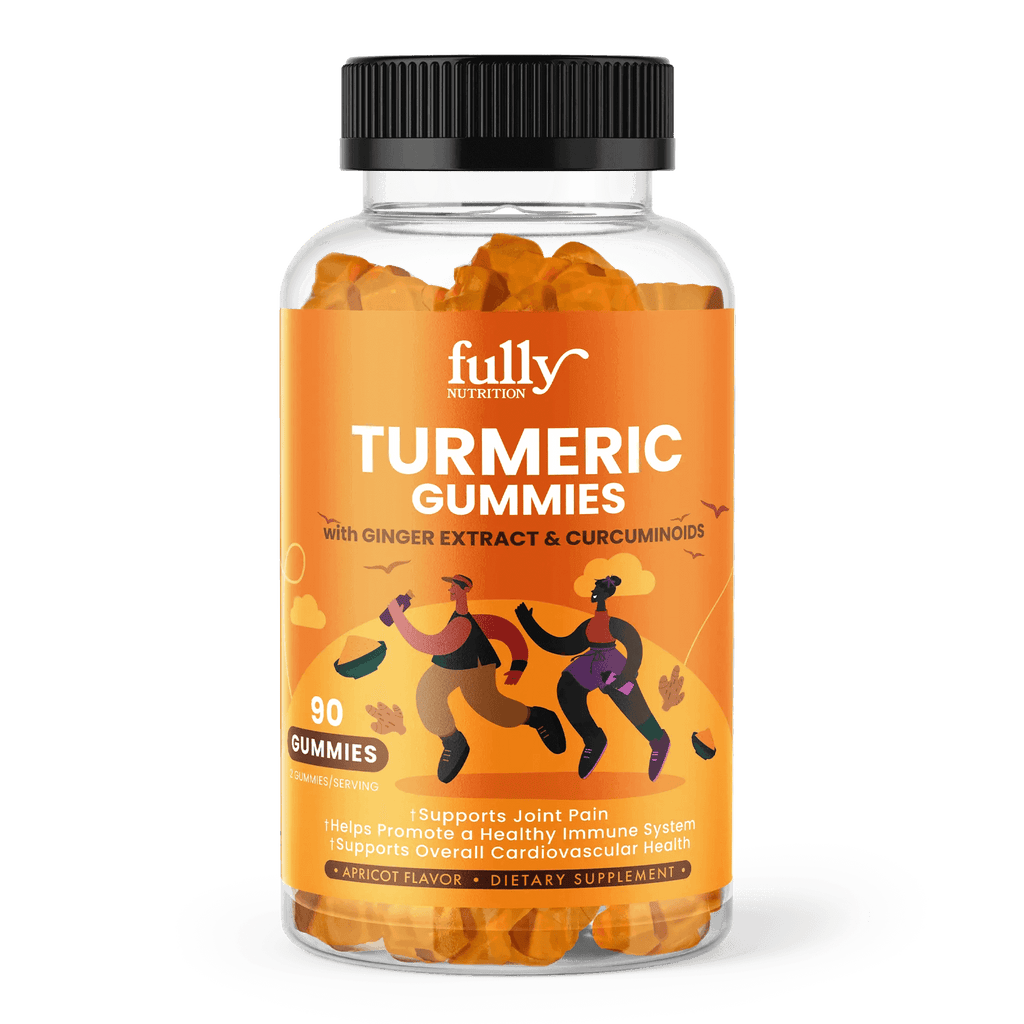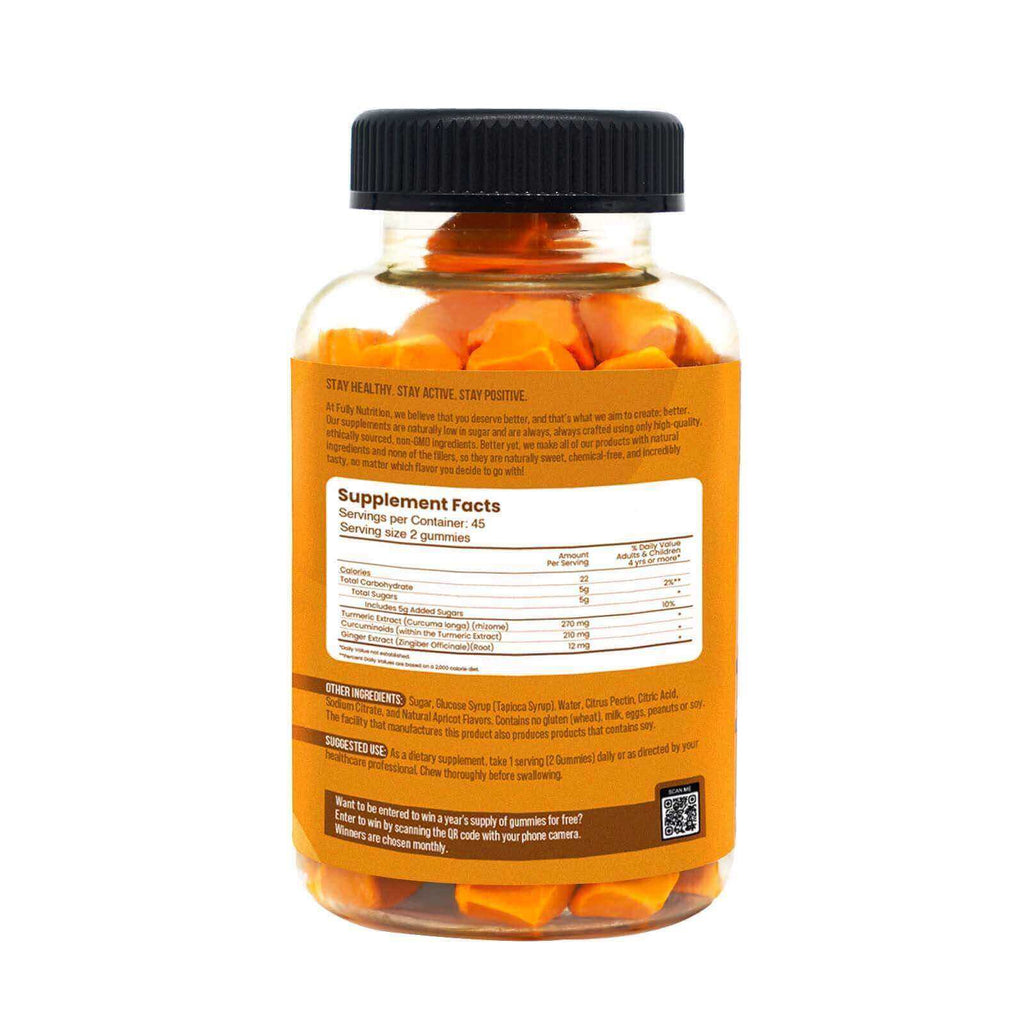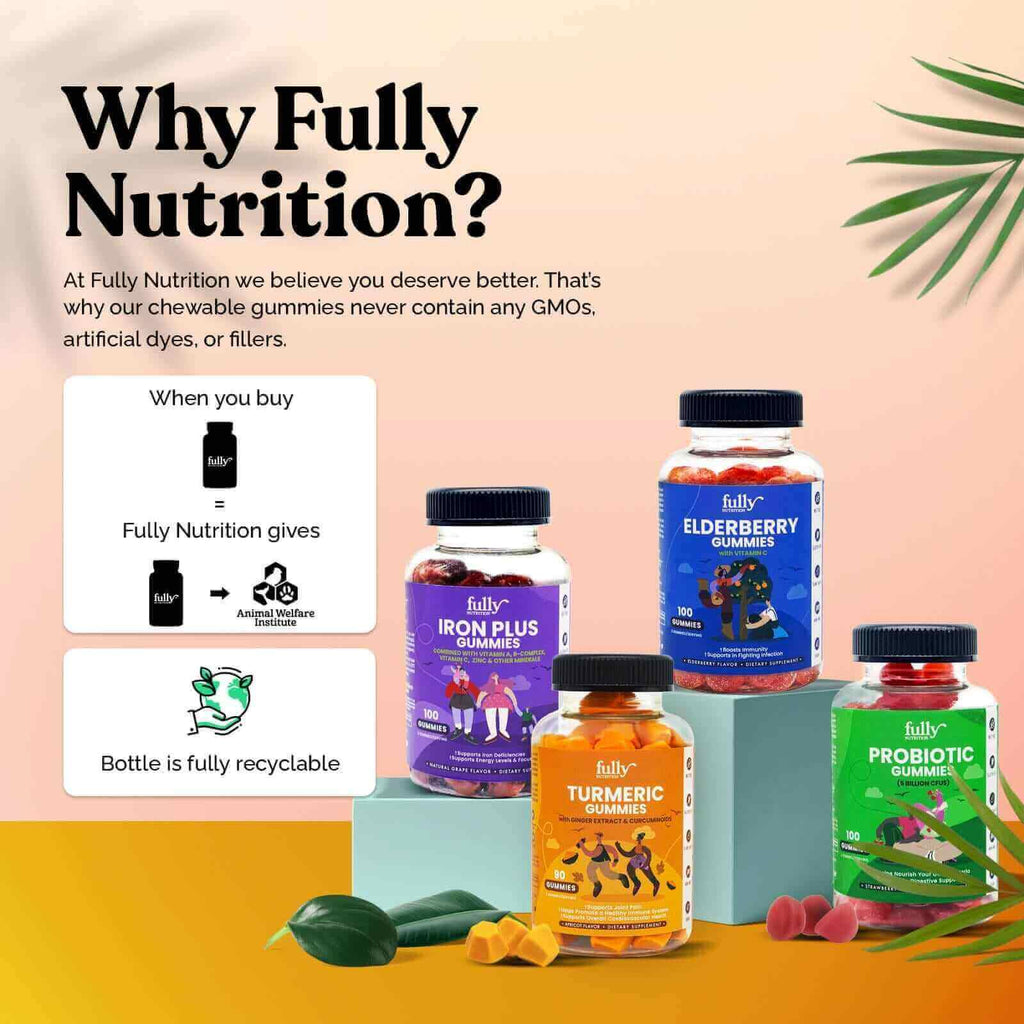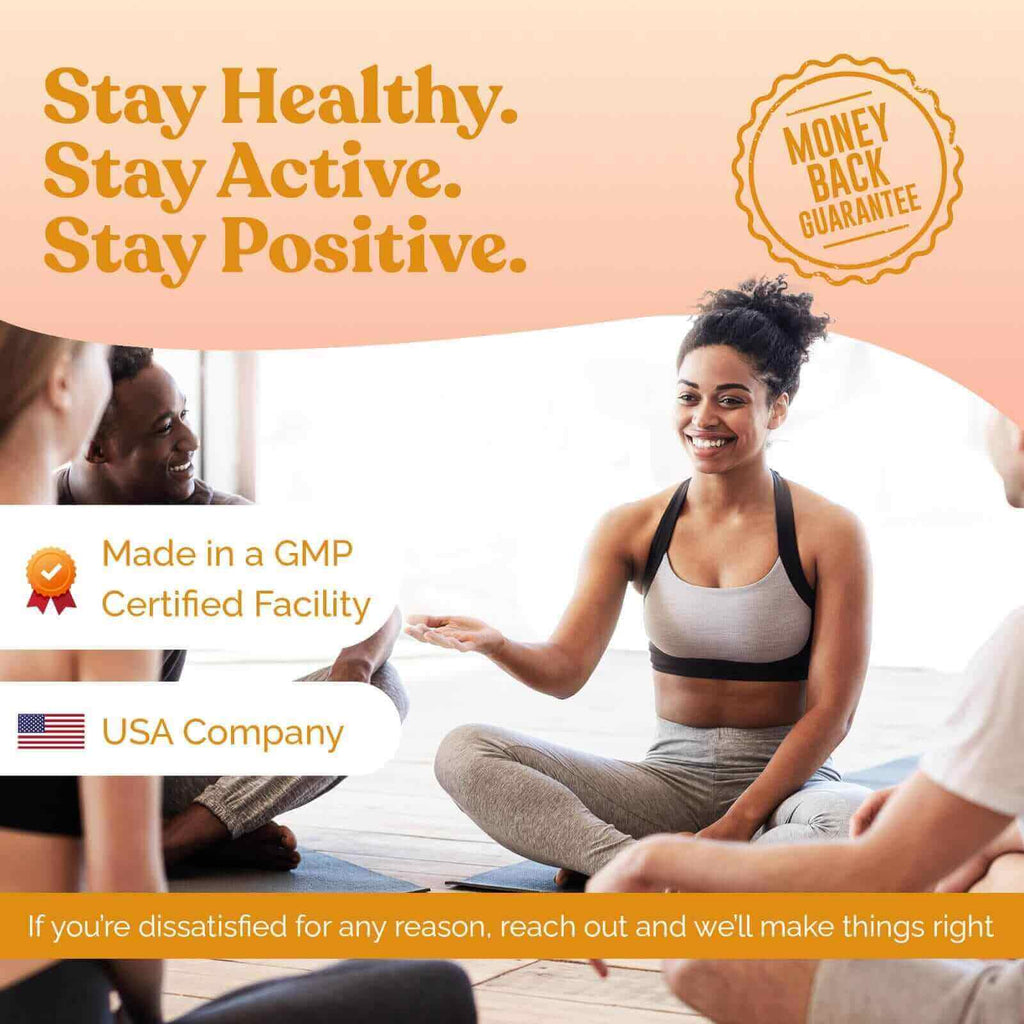 Turmeric Gummies
Anti-inflammatory powerhouses turmeric and ginger work together to boost your immune system
Curcumin, the main active compound in turmeric, has been found to relieve chronic joint pain
Ginger is a natural remedy that has been used for centuries to sooth nausea, stomach pain, and other digestive related issues
Free U.S. Shipping
30-Day Money Back Guarantee*
Gelatin Free
Low Sugars
Description

- Reduces Inflammatory Response

- Antioxidant Properties
Instructions

Store in a cool, dry place not exceeding 25°C, away from direct sunlight
Ingredients

Turmeric Extract, Curcuminoids, Ginger Extract
Shipping and Handling

Depending on the shipping speed you select, it can take 3-8 days to ship from our warehouse in NJ. We will process your order within 1-3 days of ordering. If there is a delay, please feel free to reach out to support@fullynutrition.com so we can help you get your gummies ASAP!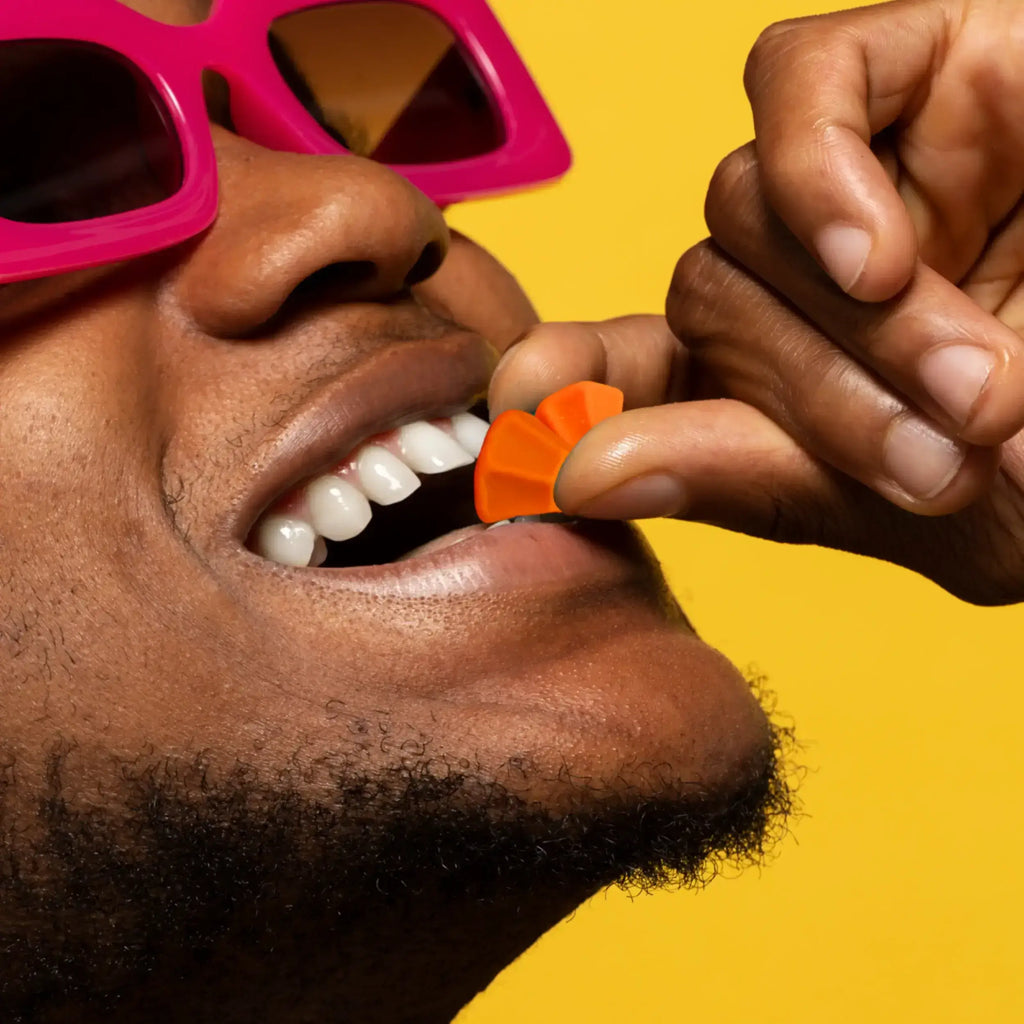 How do I take my gummies?
For optimal results, we recommend taking 2 gummies per day with or without food.
What's on the inside?
Ingredients: Turmeric Extract, Curcuminoids, Ginger Extract
What's it all good for?
Turmeric
Turmeric is a high-potency anti-inflammatory, antioxidant, anti-viral and anti-bacterial. It's active compound, curcumin, has been used in herbal medicine for joint pain, to improve digestion, and as a high source of fiber.

Ginger
Ginger is loaded with antioxidants and has been used to aid in digestion, reduce nausea, and help fight colds and flus.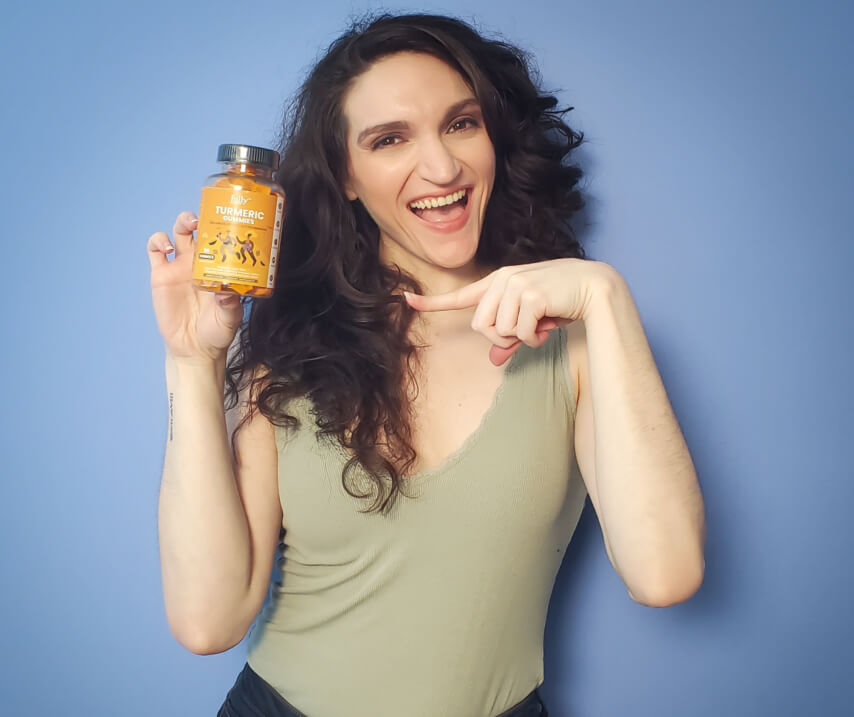 Benefits
Stomach soothing
Ginger has been used for its soothing digestive properties for centuries.
Anti-inflammatory properties
Turmeric and ginger are known for their anti-inflammatory properties that aid in the relief of joint pain, tissue problems, chronic health disorders, and other environmental stressors.
Protector
The combination of turmeric and ginger provide added immune protection with their anti-microbial, anti-fungal, and anti-bacterial properties.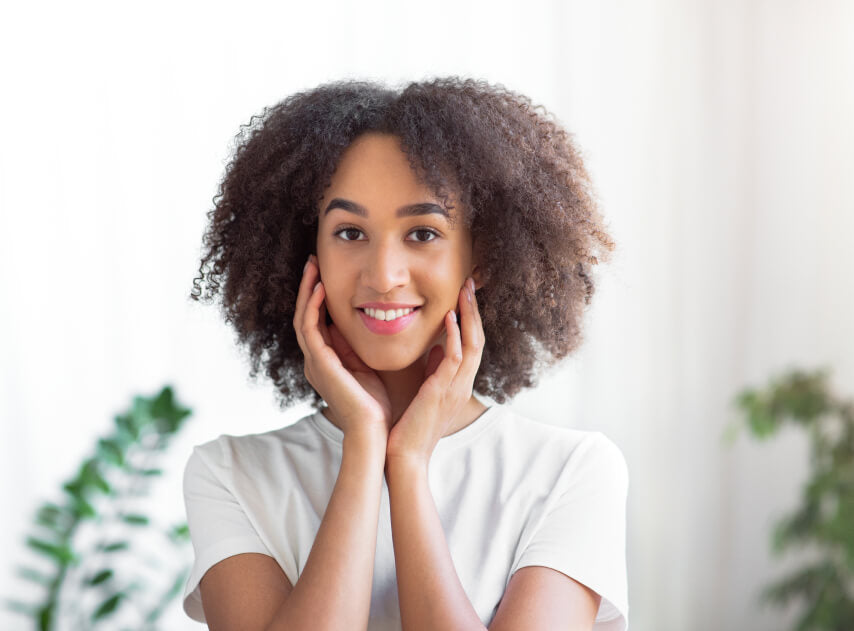 Why should I be taking turmeric?
It's more than just its sunshiny-yellow color! Turmeric has long since been noted as a powerful anti-inflammatory with claims of reducing chronic pain, lowering the risks of heart disease, and even fighting depression. Not to mention that turmeric's antioxidants are thought to help ignite other antioxidants in the body and fight free radicals. No wonder why it's been used for centuries!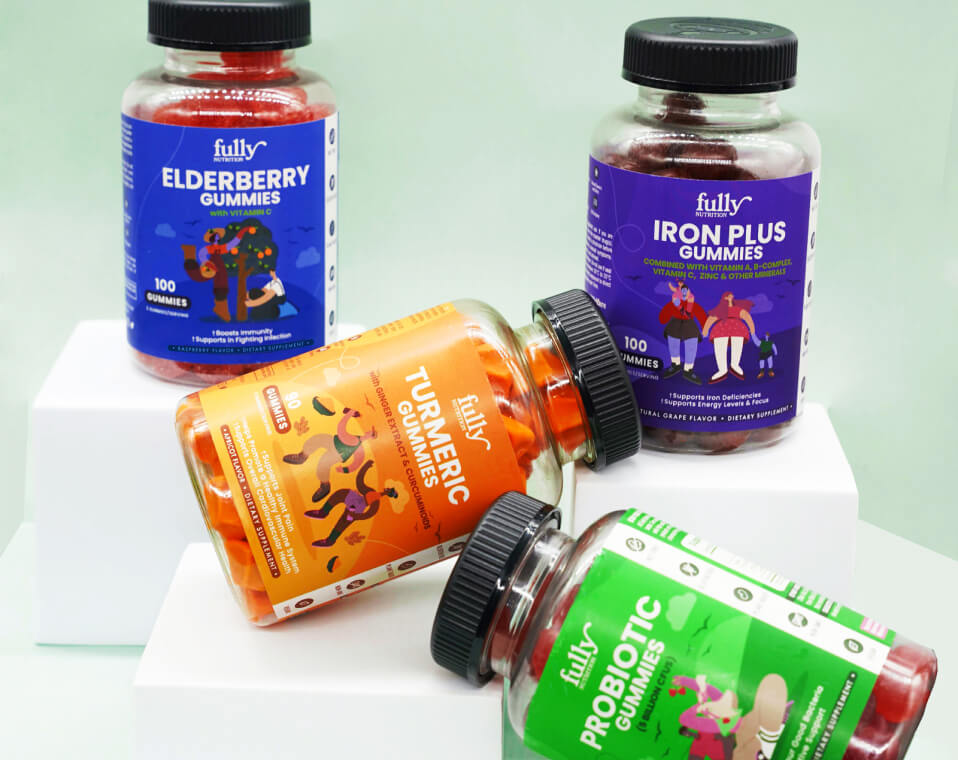 Why choose us?
At Fully Nutrition, we like to dive fully into everything we do: fully natural, fully clean, fully ethical, fully healthy!
We don't stop short because it's easy and we certainly don't end the benefits with our products. Fully Nutrition is committed to making products you can trust and creating change we can all build on!
Love it
I love Fully Nutrition Tumeric Gummies! They have helped me with my joint pain and also give me an overall sense of well-being. The gummies are easy to take and taste great. I highly recommend this product to anyone looking to improve their health.
Great for joint pain
I have been using Fully Nutrition Tumeric Gummies for a few weeks now and have noticed a significant decrease in my joint pain. They're easy to take and taste great. I would definitely recommend them to anyone looking for a natural way to alleviate joint pain.
Frequently Asked Questions
Are these tree nut free?

Fully Nutrition's gummies are nut free.
Do these gummies have soy, dairy, or gluten?

Our turmeric gummies do not contain soy, dairy, or gluten, but are made in a facility that contains soy.
Do these have a strong turmeric taste?

These gummies are made with a natural apricot flavor that only tastes delicious!
Do these gummies contain curcumin?

Curcumin is the most active ingredient in turmeric and our turmeric gummies contain 210 mg of curcuminoids.
What are turmeric supplement gummies?

Turmeric supplement gummies are a type of dietary supplement that are made with turmeric extract. Turmeric is a spice that contains an active ingredient called curcumin, which has been traditionally used for its potential health benefits.
Why do people take turmeric supplement gummies?

Turmeric supplement gummies may be taken to alleviate inflammation, support joint health, and boost the immune system. Turmeric has also been studied for its potential to reduce the risk of chronic diseases such as heart disease, cancer, and Alzheimer's disease.
What are the potential benefits of taking turmeric supplement gummies?

Some potential benefits of taking turmeric supplement gummies include reduced inflammation, improved joint health, improved immune function, and reduced risk of chronic diseases. Turmeric may also have potential benefits for brain function and may help improve symptoms of depression.
Are there any potential side effects of taking turmeric supplement gummies?

While turmeric is generally considered safe for most people, there are some potential side effects that you should be aware of. These include gastrointestinal issues such as nausea and diarrhea, and in rare cases, allergic reactions. Turmeric may also interact with certain medications, so it's important to consult with a healthcare professional before starting a new turmeric supplement regimen.
How should I take turmeric supplement gummies?

The recommended dosage and usage instructions for turmeric supplement gummies may vary depending on the product and brand. It's important to follow the instructions on the label and to take the supplement with food, as this can help improve absorption and reduce the risk of gastrointestinal side effects. Turmeric supplements should also be taken separately from certain medications, such as blood thinners, as they can interact with these medications.
Let customers speak for us